States and UTs to strengthen Ayush Infrastructure through National Ayush Mission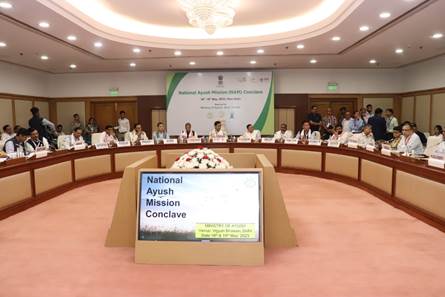 New Delhi, May 19, 2023: During the two day National Ayush Mission Conclave 2023 important roundtable discussion was held for participating Health and Ayush Ministers from states and UTs governments.
The major trust of the discussion was to strengthen Ayush infrastructure through National Ayush Mission in states and UTs. Union Minister of Ayush & Ports, Shipping and Waterways Sarbananda Sonowal, Minister of State for Ayush Dr. Munjpara Mahendrabhai were present along with Daya Shanker Mishra 'Dayalu', Govt of Uttar Pradesh, Ram Kishore Kawre, Govt of Madhya Pradesh, Banna Gupta, Govt of Jharkhand, Dr. R. Lalthangliana, Govt of Mizoram, Alo-Libang, Govt of Arunachal Pradesh, Keshab Mahanta, Govt of Assam, S Pangnyu Phom, Govt of Nagaland, and Rajeev Rai Bhatnagar, Advisor to LG from Jammu & Kashmir. 
On this occasion, Sarbananda Sonowal said, "State Governments should take steps to share old knowledge and practices of Ayush. I want you all to take the message about Yoga to your respective states, so that it will ensure the maximum number of participation in the upcoming IDY 2023."
Minister of State for Ayush Dr. Munjpara Mahendrabhai said, "As we have seen there is a lot of increase in number of AHWCs and integrated Ayush health care system which has connected people with Ayush health care system. I feel states and UTs should work towards enabling more people benefit from the services provided by them."
Daya Shankar Mishra, Minister of State for Ayush, Uttar Pradesh said, "Government of Uttar Pradesh has taken major steps to create better infrastructure for delivery of Ayush healthcare services. We have shortlisted 552 Government hospitals and have converted them into HWCs."
Ram Kishore Kawre, Minister of Ayush (IC), Madhya Pradesh said, "Our Government has started program to promote the farming of herbs and medicinal plants. We have achieved 90% of the target HWCs given by the Government and 50% of the hospital targets and aspire to build 5000 dispensaries with wellness centres."  
Banna Gupta, Health Minister, Govt of Jharkhand said, 'Ayush is not just a medical science but it's a day to day applied life science. Jharkhand needs a research centre to do research on various medicinal plants. We should also explore medical tourism in Jharkhand."
Keshab Mehanta, Health Minister, Assam informed that preparation for 200 CHO interviews for appointment is in progress and Government of Assam is working on proposal for an Ayush rehabilitative program for drug users. Health Ministers from Nagaland, Arunachal Pradesh, Mizoram also talked about how they were working to establish HWCs in remote areas and need for manpower for the same.
Vaidya Rajesh Kotecha, secretary, Ministry of Ayush along with Kavita Garg, Joint Secretary, Ministry of Ayush and senior officials of National Ayush Mission was present in this meeting. Kavita Garg, started the discussion by giving an overview of National Ayush Mission and ways to strengthen Ayush services infrastructure through NAM.