Amit Shah inaugurates Gorata Martyr Memorial
New Delhi, March 26, 2023: Union Home Minister and Minister of Cooperation Amit Shah inaugurated Gorata Martyr Memorial and Sardar Vallabhbhai Patel Memorial and also unfurled the 103 feet high tricolor at Gorata ground in  Bidar, Karnataka today.
On this occasion, former Chief Minister of Karnataka B. S. Yediyurappa and many other dignitaries were present.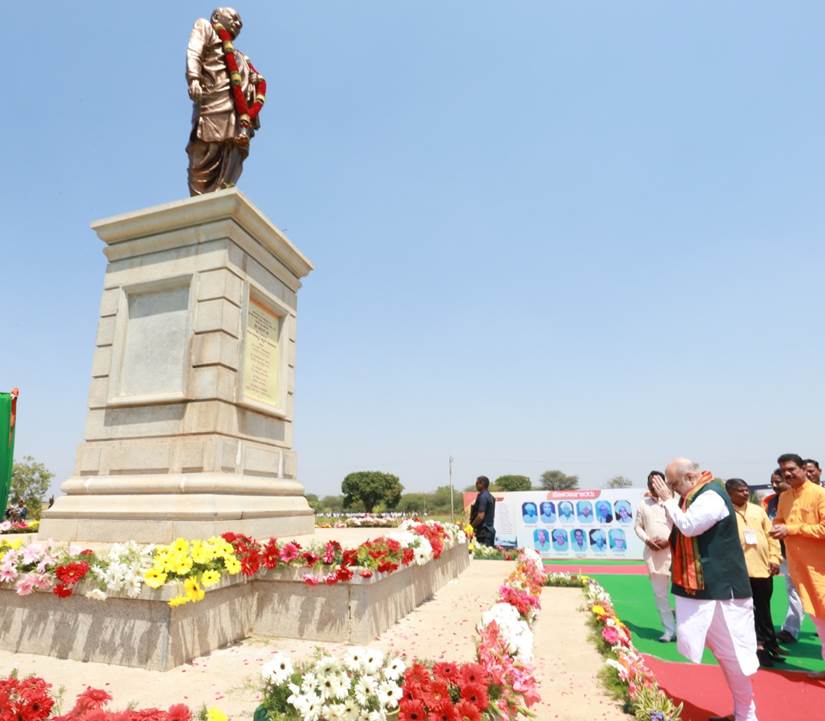 Paying tributes to the country's first Home Minister SardarVallabhbhai Patel, Amit Shah said that had Iron Man SardarVallabhbhai Patel not been there, Hyderabad and Bidar would never have become independent. This monument of Sardar Patel is a symbol of liberation of the people of Hyderabad-Karnataka-Marathwada from the cruel rule of the Nizam.
Shah said that today is a very important day because in 1948, at this place, the Nizam killed hundreds of people for hoisting a two-and-a-half-feet tricolor and I am fortunate to hoist a 103-feet tall tricolor at the same place today.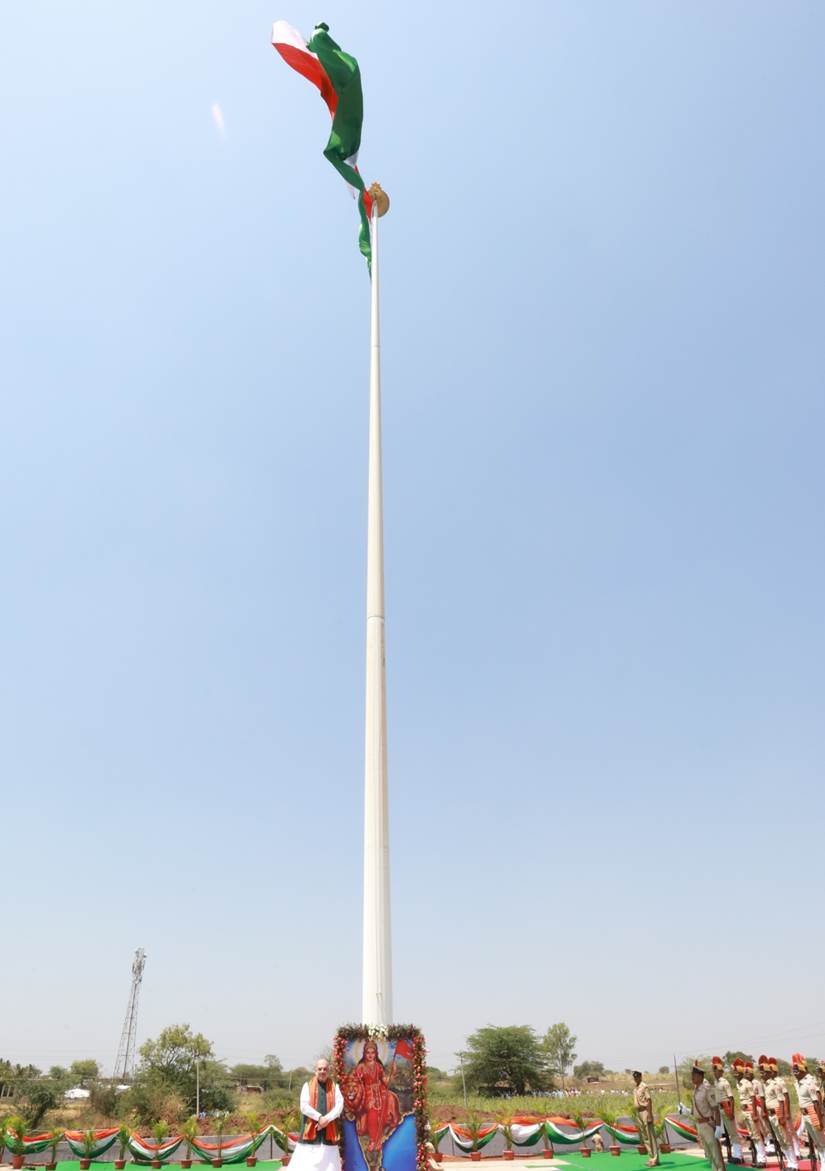 The Union Home Minister and Minister of Cooperation said thaton 17th September 2014, on the occasion of Hyderabad Liberation Day, he had laid the foundation stone of a memorial so that the whole country could pay tribute to the martyrs of Gorata for hundreds of years. Shah said that he is fortunate to get the opportunity of inaugurating it today. He said there is also a plan to build a huge memorial and a light and sound show at a cost of Rs 50 crore, so that visitors and tourists coming not only from Karnataka but from all over the country can be told the story of great martyrs.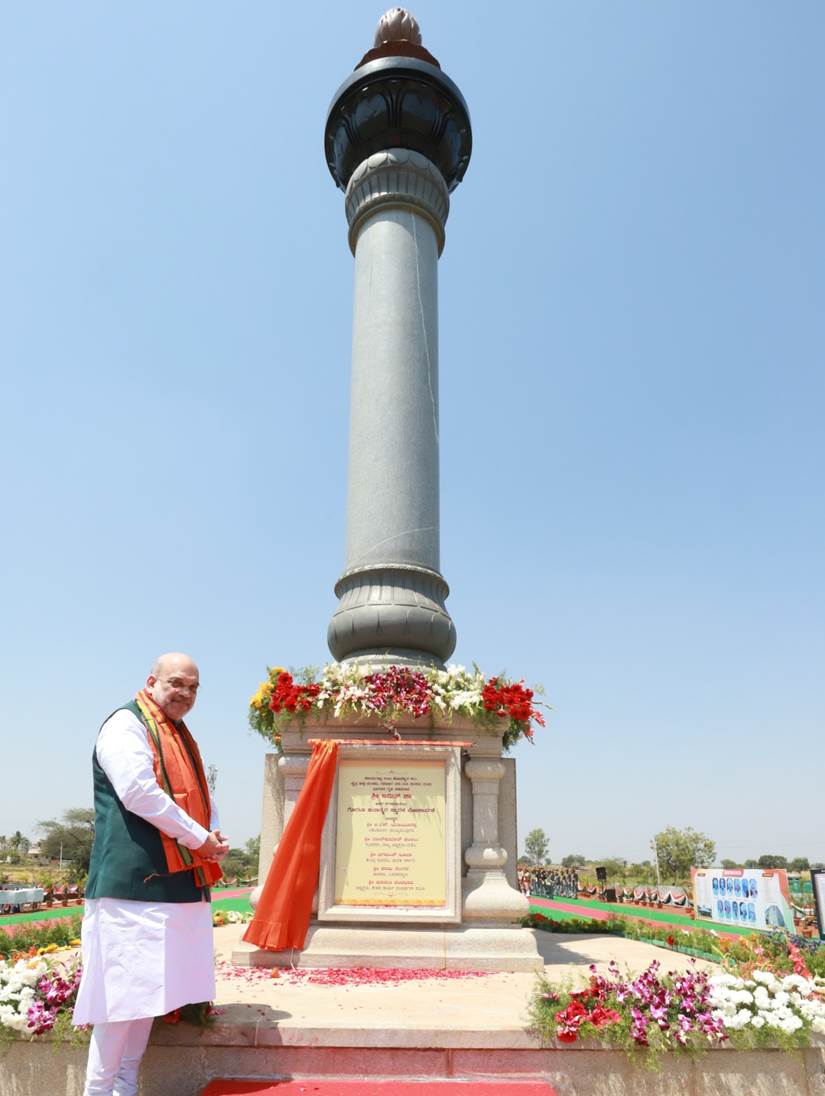 Amit Shah said that even today, the Government of Telangana is hesitating to celebrate Hyderabad Liberation Day but the Central Government under the leadership of Prime Minister Narendra Modi has decided that every year on Hyderabad Liberation Day a grand ceremony will be organized. He said that after the construction of the memorial, next year the ceremony of Hyderabad Liberation Day will be organized in Gorata village itself.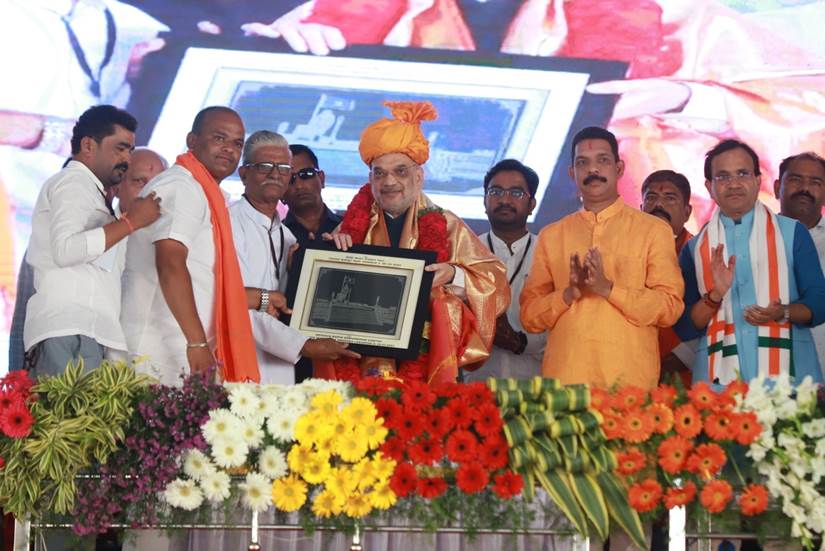 The Union Home Minister and Minister of Cooperation, said that due to appeasement and vote bank politics, the previous governments never remembered the people who fought for the liberation of Hyderabad and gave 4% minority reservation based on religion, which was contrary to the provisions of the Constitution.
Shah said that his party's government without believing in appeasement politics made changes in reservation and abolished minority reservation and increased the reservation quota for Vokkaligas from 4% to 6%. While the quota for Panchamasalis, Veerashaivas and other Lingayat categories was increasedfrom 5% to 7%. Along with this, by giving 6% reservation for SC-Left, 5.5% for SC- Right, 4.5% for SC-Lambani, Bhovi, Korcha, Korma and 1% for other Scheduled Caste communities injustice done to the SC communities was done away with.
Shah said that be it Mumbai-Karnataka or South-Karnataka or Kalyan-Karnataka or Bengaluru, the balanced development of the state can only be done by the full majority government of our party. He said that these historic decisions taken by the Government of Karnataka would ensure appropriate social justice to all sections of backward classes.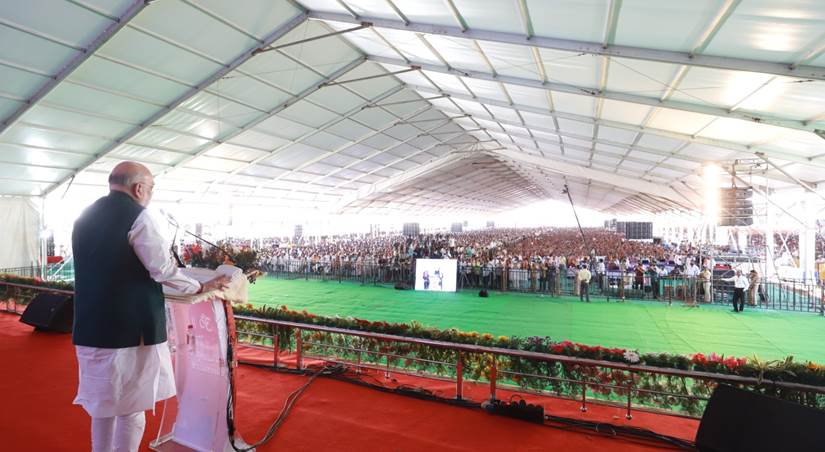 When Yediyurappa  became the Chief Minister of Karnataka, he changed the name of 'Hyderabad-Karnataka'-a sign of slavery to 'Kalyana-Karnataka'. The government gave Rs 3000 crore for the development of Kalyan Karnataka, which has been increased to Rs 5000 crore in this budget. He said that the government resolved several issues in the region including Upper Bhadra Project, Kalasa-Banduri Project, Phase II of Upper Krishna Project, Yetina Hall Drinking Water Project. The Union and the State government jointly constructed the 411 kilometer long Bidar-Kalburgi-Bellary road at a cost of Rs.7700 crore and launched Ganga KalyaniYojana of worth Rs.1115 crore for small and marginal farmers. Model University and Central Institute of Petrochemical Engineering at a cost of Rs.5 crore have also been established.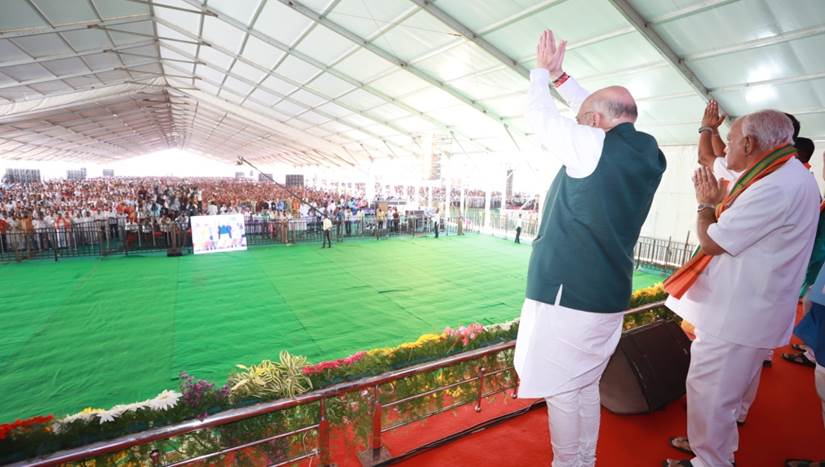 The Union Home Minister and Minister of Cooperation said that through the PM KisanYojana, 54 lakh farmers of the state are getting Rs.10,000 directly into their bank accounts every year. Under the leadership of Prime Minister Narendra Modi, by providing gas, toilets, electricity to every household, 5 kg free food grains to every poor person and free treatment up to Rs 5 lakh, the government has done many developmentswork for the welfare of crores of poor people of the country.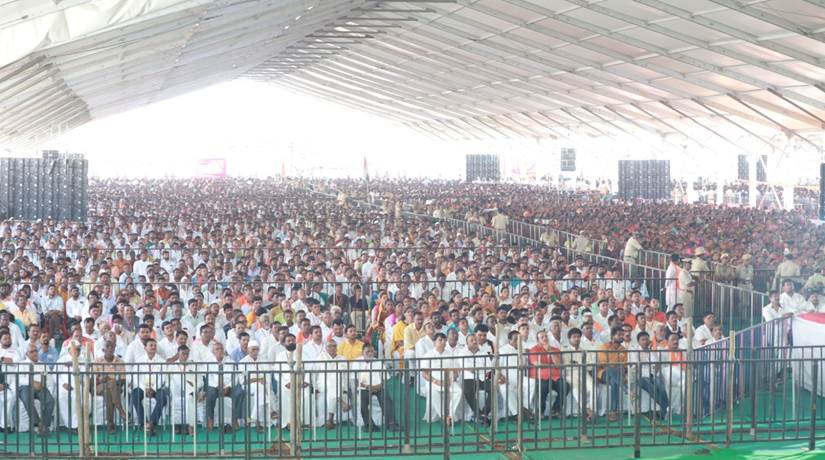 Amit Shah said that Prime Minister Narendra Modi has secured the country completely. Construction of the Ram temple in Ayodhya was stuck for the last several years. After the Supreme Court's judgement, Prime Minister Narendra Modi, performed Bhumipujan and laid the foundation of the Ram Mandir. The previous governments did not remove Article-370 from Jammu and Kashmir due to vote bank politics, while on 5 August 2019, Prime Minister Narendra Modi abolished Article-370 and made Kashmir a part of India forever. The result of this is that today our Kashmir has become free from terrorism and has progressed on the path of prosperity and development. He said that the government will continue to work tirelessly for the all-round development of the entire Karnataka.