Pink Toilets in 32 Gram Panchayats of Gadag District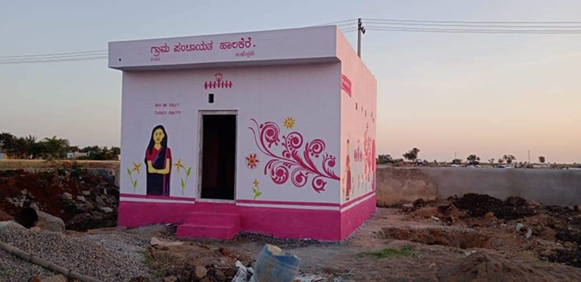 New Delhi, April 18, 2022: In a move to make sanitation accessible, safe and at the same time remove embarrassment during menstrual days among adolescent girls, the Gadag district of Karnataka is constructing pink toilets in 32-gram panchayats (GPs) across the district.
Of these, 20 units have been completed while 12 are in an advanced stage of completion. The cost of each unit is Rs.6 lakhs – (Rs. 3 lakhs from MGNREGA, Rs. 1.8 lakhs from SBM-G and Rs. 1.2 lakhs from Gram Panchayat 15th Finance fund).
Such a facility was first constructed at the KH Patil Girls Senior Primary School and after successful testing, it is being replicated in other villages.
Equipped with adequate water supply, lighting, a changing room and other amenities, the wash room for adolescent girls and women is an innovation under the Swachh Bharat Mission Grameen (SBM-G). Each unit has an incinerator which is used for safe disposal of sanitary pads and menstrual waste.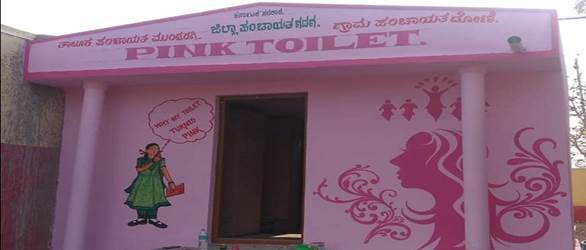 Menstrual Hygiene Management (MHM) is an integral part of the waste management under the Swachh Bharat Mission Grameen (SBM-G) campaign, underlining the importance of this otherwise taboo topic that impacts not just health and wellbeing, but also education and overall development of girls and women in the country. The Department of Drinking Water and Sanitation (DDWS) has issued guidelines to support all adolescent girls and women. It outlines what needs to be done by State governments, district administrations, engineers and technical experts in line departments; as well as school head teachers and teachers.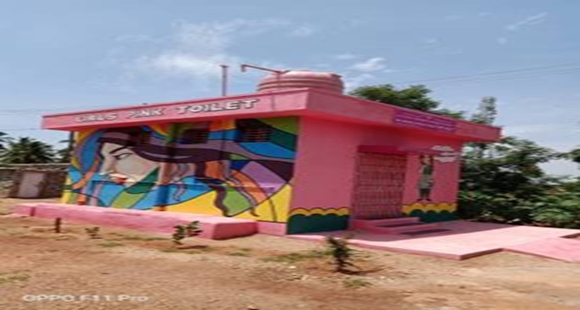 The initiative has been appreciated by girls and women, helping to remove embarrassment during their menstrual days.
The toilets have been constructed in convergence between Swachh Bharat Mission Grameen, Mahatma Gandhi National Rural Employment Guarantee Scheme, 15th FC and the GP funds. The dream of clean villages is becoming a reality with this special initiative.
In Gadag, to ensure proper use and maintenance of the facilities, training has been conducted, at school level, involving School Development and Monitoring Committee (SDMC) members, teachers, and GP members in the programme. It specifically covered the use of incinerators.
Plans are in the pipeline to train women at the village, through the NRLM Self Help Groups to make sanitary pads. In the meantime, awareness programmes are being conducted for school children, the messages reinforced through wall writing, brochures, posters that are distributed and pasted in public spaces. Safe sanitation and hygiene messages are also promoted through social media and documentaries.