We want youth to pick up books instead of stones: Amit Shah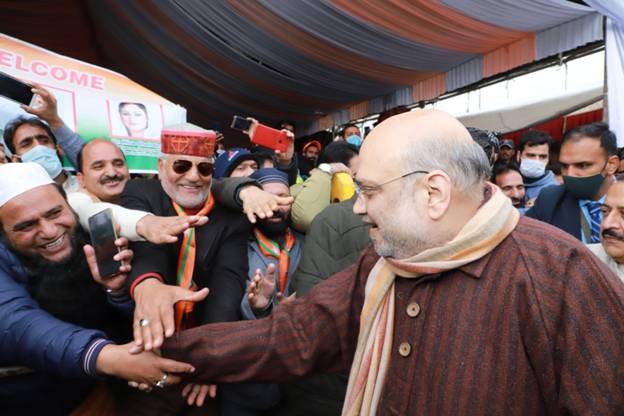 New Delhi, Oct 25, 2021: Union Minister for Home and Cooperation, Amit Shah inaugurated and laid foundation stones of various development projects in Srinagar today.
Many dignitaries including the Lieutenant Governor of Jammu and Kashmir Manoj Sinha and Union Minister Dr. Jitendra Singh were also present on the occasion.
In his address, Amit Shah said that on 5th August 2019, the Government had taken a decision and under the leadership of Prime Minister Narendra Modi, a new era of development has begun in Jammu and Kashmir, especially in the Valley and by the year 2024 beautiful results will be seen. He said that all-round development of Kashmir is the heartfelt wish of Narendra Modi and I have come only to speak about  development. But before that I also want to speak about what is  on my mind. I was taunted, cursed, I was condemned in very strong words and I want to speak openly with you today, and that is why today I am I am standing before you without any bulletproof protection and security.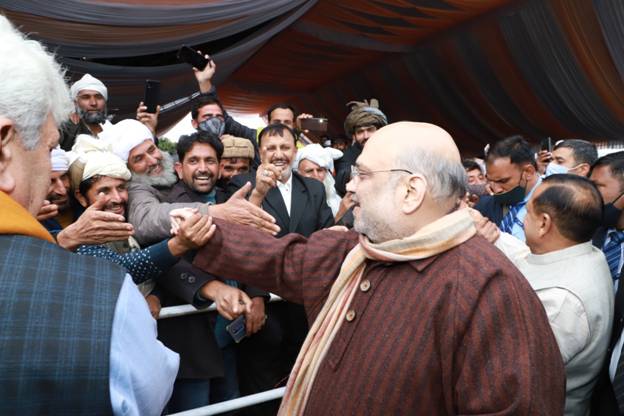 "I want to assure you that the people should get rid of fear from their hearts, no one can disturb the peace and development journey of Kashmir and they can trust the Government of India. The intention and motive of those who disturb this journey of development s not clear. They ask why was curfew imposed after August 5, why the internet was shut down. They mislead the youth of Kashmir and today I want to answer all of them and say that the people of Kashmir have as much right over the country as I do," he said
"About 40,000 people were killed and these people always kept saying talk to Pakistan, talk to the Hurriyat, and what was the result? They destroyed tourism in the Valley. Shah said that from March 2020 to March 2021, 1,31,000 tourists from India and abroad visited Jammu and Kashmir, which is the highest figure since Independence. He said that those disturbing peace wanted no industry to come up, youth to remain unemployed and indulge in stone pelting. We want youth to pick up books instead of stones, instruments instead of weapons and to make their life," he added.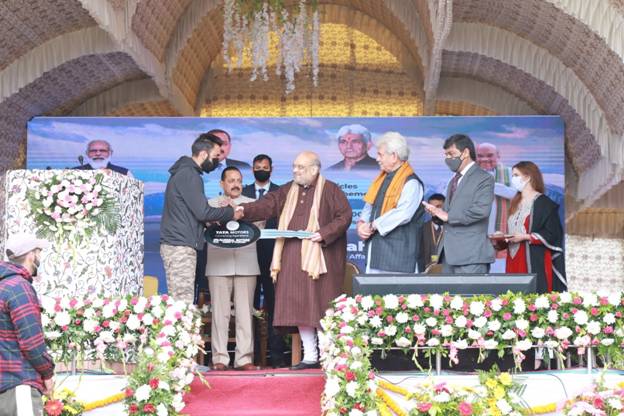 Amit Shah said Sufism had come to India from Central Asia and Iran via Kashmir, and Kashmir had presented Sufism to the whole of India.
"I have come to meet Sufi saints and hope has arisen in my mind that there can be peace forever in Jammu and Kashmir. Appealing to the youth of Kashmir, he said that what good did those who placed stones and weapons in your hands do. They talk about Pakistan. Pak Occupied Kashmir is nearby, ask whether villages there have electricity, hospitals, medical colleges, drinking water, toilets for women. There is nothing there and these people talk about Pakistan. I have come to tell you that you have as much right in India as any citizen of India. You have as much right to development and the treasury of the Government of India as every citizen of India has. The people of Kashmir have to take this process forward with determination," he said.