HUDCO hands over ₹ 174.23 Crore as final dividend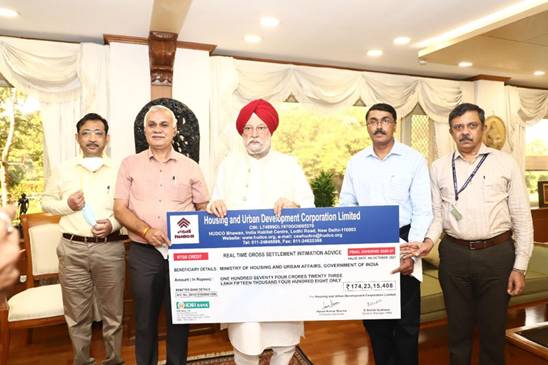 New Delhi, Oct 12, 2021: HUDCO has paid a total dividend of Rs 435.41 crore to its shareholders for the Financial year 2020-21. It today handed over a cheque of Rs 174.23 Crore as final dividend to the Minister of Housing and Urban Affairs Hardeep Singh Puri, as part of the share of the Ministry of Housing and Urban Affairs(MoHUA). Ministry of Housing and Urban Affairs is the largest shareholder in the company, having 61.08% share. 20.73% share is with the Ministry of Rural Development while the public holding is 18.19%.
The Company earned Gross profit of Rs 2268.64 Crore in 2020-21, compared to Rs 2174.53 Crore last year. HUDCO had announced total dividend of 21.25% to its shareholders. It had earlier paid an interim dividend of Rs 103.71 Crore @ 7.5%. The shareholding of MoHUA at the time of interim dividend was 69.08% which was subsequently reduced to 61.08% after divestment. It also paid Rs 50 Crore as unspent CSR fund to the government account.
Housing and Urban development Corporation (HUDCO) is a Schedule-A miniratna CPSE and India's leading techno-financial PSU in the Housing and Urban Infrastructure.